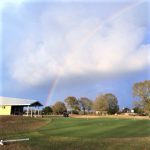 This news page is designed to provide a weekly update of relative issues to the game of golf and be your launching pad into our website.
We are starting to get some warmer days in our rotation of days ideal for playing golf… here is some quick info that will help:
NEW CLINICS: BREC is offering short game clinics for beginners & newcomers! click here to see>Flier for Clinics by Managers
Rules of Golf:  Pay attention where you tee off from when playing your round.  If you play from the wrong tee marker or from in front of them, you must re-tee and take a two shot penalty.  So don't get upset when your fellow competitors call it on you… it's their duty.
Learn how to play golf Programming : There are some Orientations coming up to attend if you wish to find  all about our golfing opportunities… Click -> I want to learn how to play golf
Say what?  The USGA is considering some major revision to the rules!  If you haven't been in the loop recently, the USGA and Royal Ancient have instituted… a discussion, so to speak… about revising some long standing rules that perhaps need some… well, revisions.  They are asking the public to enter into the mix and provide some feedback.  Now is your opportunity: http://www.usga.org/rules-hub/rules-modernization.html