Baton Rouge Amateur
Flier & Info:  2017 BR Amateur
Qualifier and 1st round: August 19th
2nd & 3rd round matches: August 20th
4th & Championship match(es): August 26th
Entry Fee: $150 per player (Includes green fee, cart, and prizes)
Exempted Players from Qualifier: 2016 Champion Brad Jack, Baton Rouge Open Winner Brandt Garon, Webb Championship Winner Scott Haynie, Dumas Championship Winner Michael McDonald, City Park Champion Robert McCusker.
Player of the Year Points for Am:
1st: 360; 2nd: 350; Make it to Semi-Finals but lose match: 340; Make it into Quarter-Finals but lose match: 320; Make it into the Sweet 16 but lose match: 280; Make the Top 32 but lose your match: 200.  Qualifier, fail to make top 32 receive 40 points.
BREC has it's 2017 Tournament Schedule out and posted on the Tournament page at www.golf.brec.org/tournaments
Upcoming tournament is taking registration:
Baton Rouge Open:BR Open Results
Flyer for Dumas Championship: Dumas 2017 Championship Results and Points PDF
Flyer for Amateur Championship: 2017 BR Amateur
Scott Haynie returned to Championship form by winning the Webb Championship hosted April 8th & 9th.  Haynie put together rounds of 67 & 66 to storm first place by 8 shots over his nearest competitor. Wade Gautreau shot 141 for second place and Luke Gower a 145 for third place.  David Hoffman is still in first place in the Player of the Year, but his lead is shrinking as Kevin Landry jumped closer with his 9th place finish.  Robert McCusker, winner of the City Park Championship inched closer for the third spot, but Haynie made a huge leap up to fourth with his win at Webb. Webb Championship 2017 Results and Points PDF
  Robert McCusker finishes strong with birdies on 14, 15, and 16 over Kevin Landry to take the 2017 City Park Championship on a cool and blustery Sunday.  Going into the final 9 on Sunday, Landry and McCusker found themselves tied until McCusker exerted himself with a string of birdies.  McCusker posted the only subpar round for the tournament with a 62 on Sunday giving him a two round total of 129.  Landry took the second spot (132) 7 shots ahead of the next third place spot. Results> City Park Championship 2017 Results & Points PDF
   Mardi Gras Mania Tournament is in the books; Henry Pointer & Ed Mitchell, recognized leaders of The First Tee in Baton Rouge, combined to shoot 65 to take top honors in this full field event. Scott Haynie and David Millet took second.  Haynie, the 2016 Player of the Year continues to emerge near the top and may make a run at a repeat for the top honors… something never done in the Player of the Year's history.   Jason Miller and Scott Sagely took top honors in First Flight, and Brett Grau and Chad Tobler won first place in the Second Flight.   For results see here> 2017 Mardi Gras Mania Flights Results PDF
The first tournament of 2017 was the Icebreaker at City Park.  See here for the results: Icebreaker Results PDF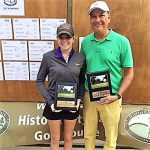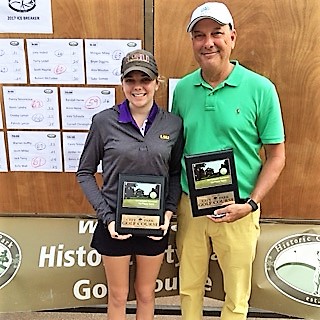 Anna Heine and father Randall have back to back wins as they teamed up  to take the Harry Neese and now the 2017 opener Ice Breaker.  Windy conditions on a pesky City Park lay-out tested a full field for the event, but her swing held out and they managed a total 59 (-5) to take the title.
Who is leading in the Player of the Year Points following the City Park Championship? Click> http://golf.brec.org/player-of-the-year/