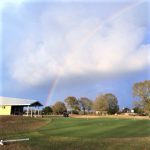 This news page is designed to provide a weekly update of relative issues to the game of golf and be your launching pad into our website.
We are starting to get some warmer days in our rotation of days ideal for playing golf… here is some quick info that will help:
NEW CLINICS: BREC is offering short game clinics for beginners & newcomers! click here to see>Flier for Clinics by Managers
Rules of Golf:  Pay attention where you tee off from when playing your round.  If you play from the wrong tee marker or from in front of them, you must re-tee and take a two shot penalty.  So don't get upset when your fellow competitors call it on you… it's their duty.
Learn how to play golf Programming : There are some Orientations coming up to attend if you wish to find  all about our golfing opportunities… Click -> I want to learn how to play golf
Say what?  The USGA is considering some major revision to the rules!  If you haven't been in the loop recently, the USGA and Royal Ancient have instituted… a discussion, so to speak… about revising some long standing rules that perhaps need some… well, revisions.  They are asking the public to enter into the mix and provide some feedback.  Now is your opportunity: http://www.usga.org/rules-hub/rules-modernization.html 
How about team golf for your junior, or Family Golf? Look at Golf Unlimited below.
Tournaments: When is the next tournament? <-Click
What? Golf…  Are you thinking about inviting a friend out to play golf but know they are a beginner and will struggle keeping up with you.  Try this, bring only 7 clubs per player to challenge yourself but make it easier for your playing partner; on even number holes tee off from 350 yards on Par 5s, 250 yards on par 4s, and within 75 yards on par 3s.  The round will go faster for your group and you don't have to worry about keeping up; you both play from the same tee markers so your partner doesn't feel intimidated or left out; and the scores will be lower.  Note: we are installing Family Golf Tees on all our golf courses, perhaps play from those.
The latest with our Courses:  If you have noticed, some of the courses have flags marking  where new drainage is going to be put in; at some courses we have already performed some work (#10 at Santa Maria).  BREC Golf Department will be laying out a total of 4 miles of drainage work within all 6 courses with the intended purpose of improving drainage in persistent wet areas.  This effort is intended to improve the course's ability to drain water quickly thus allowing us to reduce "carts on path" time and get you on course for your round.