Designed by Robert Trent Jones, Sr. and a member of the prestigious Audubon Golf Trail, Santa Maria Golf Course is built on 150 acres of rolling terrain, featuring 18 lakes and two natural waterways. This is the perfect memorable setting to test your golf skills, complete with sand bunkers, exquisite Bermuda fairways and mature oaks.
The 18-hole course measures 6,969 yards in length from the championship tees. The Spanish-style clubhouse includes a pro shop, a full-service restaurant and a private conference/dining room and fitness center. Champions Grill overlooks the beautiful par-five finishing hole, and you'll want to stop in for a meal or drinks after your round.
Santa Maria Golf Course has a history of being recognized as one of the best public golf courses in southeast Louisiana; having received Golf Digest's highest ranking for a municipal course. It is conveniently located one mile off historic Highland Road near I-10.
Improvements to Santa Maria's drainage.  During 2016 & 2017 staff undertook a project involving drainage for several holes in an effort to improve turf conditions and increase time carts could get off the path after heavy rains. During 2017 drainage and sand were replaced in all the greenside bunkers. During 2018 the drainage and sand were replaced in all the fairway bunkers.  BREC remains committed to continuing efforts to improve our facilities and make your golf experience more enjoyable.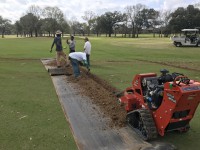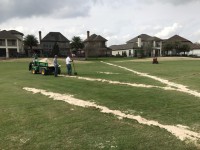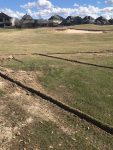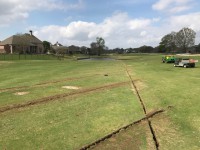 Green Fees
Twilight begins at 3pm; Super-Twilight at 5pm, during Daylight Savings Time                                                             (2nd March Sunday to 1st November Saturday)
Twilight begins at 1pm; Super-Twilight at 3pm, during non-Daylight Savings Time                                              (1st November Sunday to 2nd March Saturday)
| Monday-Thursday | Green Fee | wCart |
| --- | --- | --- |
| Regular Round (ages 18-54) | $31 | $45 |
| 9-Hole Round | $18 | $26 |
| Senior Round (Ages: 55 and older) | $24 | $38 |
| Junior Round (Ages: 17 and younger) | $16 | $30 |
| Twilight Round (After 3 p.m.) | $24 | $32 |
| Friday-Sunday | Green Fee | wCart |
| --- | --- | --- |
| Regular Round (ages 18-54) | $41 | $55 |
| 9-Hole Round | $21 | $29 |
| Senior Round (Ages: 55 and older) | $32 | $46 |
| Junior Round Before Noon (Ages: 17 and younger) | $32 | $46 |
| Junior Round After Noon (Ages: 17 and younger) | $16 | $30 |
| Twilight Round (After 3 p.m.) | $32 | $40 |