For information regarding the COVID-19 outbreak and BREC Golf Courses,
CLICK HERE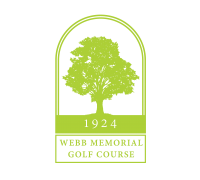 Course Information
LOCATION

1351 Country Club Drive, Baton Rouge, LA 70806

PHONE

225-383-4919

HOURS

Open daily: 7 a.m.-sunset

EMAIL

COURSE STAFF

Manager: Greta Miles
Assistant Manager: Kurt Bailey

Course Superintendent: Jim Husted
Asst. Course Superintendent: Mike Drury
About Webb Memorial
Webb Golf Course is an 18-hole course that measures 6,656 yards in length and is located at BREC's Webb Park. Large oak trees line the fairways of this golf course that is ideally situated not far from downtown. The course was originally built as a private club in the 1920s in one of Baton Rouge's most affluent neighborhoods. It opened in 1924, and it became a public course in 1941.
Proudly boasting the title of BREC's most popular course, Webb is ideally situated off of College Drive, making it a convenient spot from anywhere in Baton Rouge.
Webb's pro shop is stocked with the latest equipment and clothing from the top manufacturers in the golf industry for both ladies and men. Our staff will help you select the product that is right for you. Golfers can also find a variety of drinks and snacks in the pro shop to take along with them on a golf outing.
Green Fees
Twilight begins at 3pm; Super-Twilight at 5pm, during Daylight Savings Time (2nd March Sunday to 1st November Saturday)
Twilight begins at 1pm; Super-Twilight at 3pm, during non-Daylight Savings Time (1st November Sunday to 2nd March Saturday)
| Monday-Thursday | Green Fee | WCart |
| --- | --- | --- |
| Monday-Thursday | Green Fee | WCart |
| Regular Round (ages 18-54) | $17 | $31 |
| 9-Hole Round | $11 | $19 |
| Senior Round (Ages: 55 and older) | $14 | $28 |
| Junior Round (Ages: 17 and younger) | $5 | $19 |
| Twilight Round (Between 3-5 p.m.) | $14 | $22 |
| Super Twilight Round (Any round after 5 p.m.) | $11 | $17 |
| Friday-Sunday | Green Fee | WCart |
| --- | --- | --- |
| Friday-Sunday | Green Fee | WCart |
| Regular Round (ages 18-54) | $21 | $35 |
| 9-Hole Round | $13 | $21 |
| Senior Round (Ages: 55 and older) | $17 | $31 |
| Junior Round Before Noon (Ages: 17 and younger) | $7 | $21 |
| Junior Round After Noon (Ages: 17 and younger) | $5 | $19 |
| Twilight Round (Between 3-5 p.m.) | $17 | $25 |
| Super Twilight Round (Any round after 5 p.m.) | $13 | $19 |