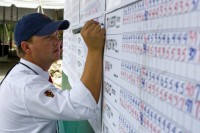 An actual Cool Front entered Saturday's play early in the round to force play to halt after the field had gone about 9 holes in the Dumas Championship.  Picking up Sunday morning, play finished out to an exciting conclusion where Michael McDonald and Landon Covington tied for the Championship at 3 under.  McDonald prevailed in the play-off.  But within the tournament was another component involving the effort to gain points for the Player of the Year.  With the Amateur as the lone remaining tournament prior to the Player's Championship, the Dumas Championship picked up more importance as a way to move further up in the standings should players find the challenge of the Amateur not fully to their advantage. It is now about positioning going into the Players.  It is definitely a horse race now.  Click below to see the current standings.
PLayer of Year following Dumas Championship: PLR of Yr Pts 2017 After Dumas Champ 
Each year, BREC crowns the Player of the Year. Golfers who compete in BREC's 2017 Tournaments.
The Player of the Year Points this year are particularly designed to award top level play.  Points are designed for 18 hole events, 36 holes events, and the Player of the Year event.  Copy of Player of the Year Points for 2017 PDF <Click
Click here to check out our tournament schedule and visit the course of your choice to register for the next  tournament to get your name in the game for Player of the Year!
Previous Players of the Year
2007 Travis Coxe
2008 Tommy Garitty
2009 Ben Wheeler
2010 Gayle Sanchez
2011 Donny Schmit
2012 Brett Baker
2013 Blaine Patin
2014 Dante Caldera
2015 Shane Starns
2016 Scott Haynie