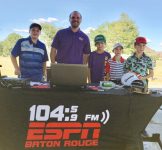 Searching for ways to gain some one on one instruction in how to play golf? Perhaps looking into improving your overall golf game? BREC considers it important to offer the public several facilities in which to play… but we also wish for you to gain more enjoyment out of your game.  BREC offers a Golf Development program through Golf Unlimited and The First Tee program, but to further enhance our efforts we provide certified independent contractors for your service.
Our Independent Contractors offer additional programming, instruction, and technological assets.  Eva Chaffin is a Top 50 USKids Golf Teacher and provides USKids Golf programming.  She is also a certified LPGA Pro and offers Adult Instruction in addition to her USKids Golf program.  Travis Coxe brings with him training in the highly sophisticated TRACKMAN system popular among Collegiate, PGA, and LPGA players. Travis is also a Titleist club-fitter and coaches many high school and college players. Clarence Von Aspern is a certified USGTF instructor and is popular in providing a variety of group lessons.  As a whole, BREC's many offerings should help you improve your golf game.
Our contractors are primarily stationed at Santa Maria Golf Course due to its quality practice amenities, but will venture north to Beaver Creek (and our other BREC courses) for instruction as well.
Independent Contractors
Eva Chaffin:  LPGA Class A Member,  US Kids Golf Top 50 2015 & 2016 Teacher, LPGA Midwest Section Junior Leader of the Year 2016
                 US Kids Golf Camps for Summer:  Eva Chaffin offers several camps with instruction and play days; for more details look at this flyer click>Golf_Flyer_summer_USKids Eva C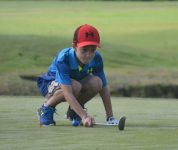 Travis Coxe: TPI Certified, Certified Level 1 in TRACKMAN, Certified Titleist club-fitter
Equipped with high technology to analyze and develop more advanced swings
Contact:    225-235-9288    Info@traviscoxegolf.com
Clarence von Aspern: USGTF & WGTF Golf Teaching Professional, International PGA Member, 45 years golf experience
Ladies Group Classes, Clinics, and individual lessons

Junior Golf – get ready for High School Competition

Player Development – swing drills, effective practice routines, and "On-course instruction"

Video Analysis & Swing Fixes

Private lesson packages – 3/5 lessons

Contact: 

von@santamariagolfacademy.com

Website link … http://www.leisuregolfbr.com

Lessons Telephone – 800-457-8312